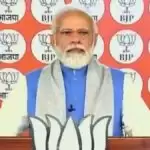 New Delhi: As per the sources from BJP, Prime Minister Narendra Modi is expected to address a digital rally involving 14 assembly constituencies in Uttarakhand on February 4.
Reda also-Modi govt did not create even a single PSU but privatised 23: Congress
It is also expected that PM Modi will address a virtual rally in Uttar Pradesh on the same day to empower the election campaign.
This will be the second round of digital rallies of PM Modi, the first of which took place on January 31 in which he virtually addressed the voters on a large scale. The digital rally in Uttar Pradesh on Friday would include approximately 20 assembly seats in the state's western region.
The first phase of assembly elections in Uttar Pradesh will take place on February 10, followed by the second and third phases on February 14 and 20. In the first three phases, polls will be held in the majority of constituencies in western Uttar Pradesh. The state's elections will be held in seven stages.
Reda also- Shivraj Singh Chouhan to meet PM Modi today
Uttarakhand's election will be done in one phase on February 14. The Election Commission has so far prohibited full-fledged physical protests, allowing only public gatherings with a maximum attendance of 1,000 people.