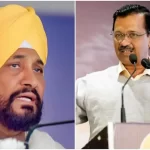 Arvind Kejriwal, the Delhi chief minister, unleashed a vicious attack on Charanjit Singh Channi, the Punjab chief minister's nephew, after the Enforcement Directorate arrested him in an unlawful sand mining case.
Read also- Owaisi, Kejriwal sent by BJP to split votes: Congress
Kejriwal attacked on Channi through a tweet today-
The ED detained Channi's nephew Bhupinder Singh alias Honey in the illegal sand mining case on the same day as the tweet attack. The arrest comes only days after Bhupinder Singh and his friends were raided by the central investigation agency on January 18.
Chief Minister Channi stated that he had no problems with the law's implementation.
But this isn't the first time Kejriwal has surrounded Channi with corruption allegations. Last December, during a visit to Amritsar, the Delhi chief minister accused his Punjab counterpart of patronising the sand mafia.
Kejriwal has demanded an investigation after alleging that illicit sand mining was common in the CM's seat of Chamkaur Sahib.
Channi has been vehemently refuting AAP's allegations of sand theft, describing them as a "bunch of lies."
Read also- Stay with your parties, but vote for AAP this once: Kejriwal urges voters
On February 20, Punjab will vote in a single-phase election. The results of the election will be announced on March 10.