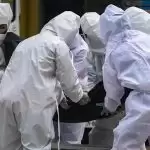 New Delhi: India became the 8th country in the world where more than 20 thousand deaths have occurred due to corona. The number one is America. There, 1.32 lakh people have died due to this epidemic. Brazil is at number two. There have been 64.9 thousand deaths so far. In Britain, Italy, Mexico, France, Spain also more than 20 thousand people have lost their lives due to corona.
According to covid19india.org, on 6 July, the number of corona infected people in India increased to 7 lakh 20 thousand 346. On Monday, 22500 new cases were reported, whereas today 473 people have died.
The first death was due to Corona on 11 March. The initial 10 thousand deaths took 97 days, but in the last 19 days this figure has crossed 10 to 20 thousand.
On June 28, the number of corona infected in the country was 5 lakh 49 thousand 197. In the list of countries most affected by the Covid-19 epidemic, India on Sunday had overtaken Russia to the third place. In this case, America is first and Brazil is second.
The first case of coronavirus in the country came on 30 January. It took 158 days to become 7 lakhs. Now one lakh patients are increasing every 5 days. If the number of infected continues to grow at this pace, then at the end of this month the figure could cross 12 lakh.
Talking about the most affected states of the country, Maharashtra is at number one. The number of infected there has crossed two lakhs. At the same time, this figure is more than one lakh in Tamil Nadu. Delhi has become the third state in the country with more than one lakh corona infected.