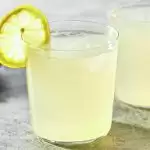 Summer is the time to drink lemonade, coconut water and many more drinks you drink. Lemonade remains a favorite of many people. It is a hydrating drink. Which is full of vitamin C. You can include it in your daily drink. To prepare lemonade, all you need is a glass of cold water, some fresh lemon and some black salt. This is a low calorie, immunity boosting drink that you can drink daily. As long as this drink suits you, you can consume it. But it is not the case that drinking lemonade is only a health benefit; excessive consumption of lemonade can also harm you.
You can feel free to drink lemonade. Lemon juice extracted from half a lemon has about 5 calories. Water has zero calories. You can include this drink in a weight loss diet.
Lemon water can act as an immune-system booster. It contains vitamin C and other nutrients that can increase your body's defenses.
Lemon acid may be stomach friendly for some people. It can help improve digestion.
A glass of lemonade can also provide you some potassium. This mineral can be beneficial for your heart, kidneys, muscles and nerves.
You can start your day with a glass of lemonade. It will hydrate you and can also help you in weight loss. It seems simple to say lemonade but its health benefits are many.