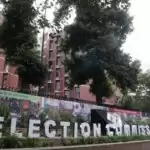 Between the 10th of February and the 7th of March, the Election Commission has prohibited the conduct and publication of exit polls. In light of the forthcoming assembly elections in five states — Uttar Pradesh, Punjab, Goa, Manipur, and Uttarakhand – the decision was made.
Read also- Election Panic in Western Uttar Pradesh
The Election Commission stated that anyone who violates the order will face imprisonment for a period of up to two years, a fine, or both.
The commission also stated that displaying any election matter, including the findings of any opinion poll or other poll survey, shall be prohibited during the 48-hour period leading up to the poll's conclusion in the respective polling districts.
Read also- Inderjit Kaur Sandhu, Staff Selection Commission's 1st woman chairperson dies at 98
The commission stated in its order that conducting any exit poll and publishing or disseminating it through print or electronic media from 7 a.m. on February 10 to 6:30 p.m. on March 7 is illegal.