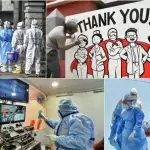 The number of corona infected increased to 3,81,091, the death toll was 12,604
New Delhi: Corona cases are increasing continuously in the country and the world. The number of corona infections in the country has increased to 3,81,091. According to Covid19india.org, there are currently 1,63,259 active cases of corona in India. While 2,05,182 people are healthy or discharged. At the same time, the death toll has increased to 12,604. In the last 24 hours, there have been 13,826 cases while 342 people have died.
According to the Ministry of Health, Corona cases increased to 3,66,946. In the last 24 hours, 12881 new patients appeared, while 334 died. Currently, 1,60,384 active and 1,94,325 have been cured. A total of 12,237 people have lost their lives from Corona so far.
In Maharashtra, 100 people have died due to corona in the last 24 hours, while the total number of corona cases in the state has crossed one lakh twenty thousand. 3752 new corona patients have appeared in a single day. This is the largest number of records ever recorded in a day. The death toll in the state from Corona has so far reached 5751. On Thursday, 1672 people were discharged after recovery, after which the total number of recoveries reached 60,338. The number of active patients in the state is now 53,901. The recovery rate in the state has now reached 50.49 per cent. The death rate in the state is -4.77 per cent.
The total number of patients in Mumbai has reached 62,875. A total of 3311 people have died in the city so far. So far, out of a sample of 7,17,686 people across the state, 1,20,504 (16.93 percent) reported positive. Currently, around 5,81,650 people have been home quarantined across the state. In the slum area Dharavi, the speed of corona has reduced considerably now. In the last 24 hours, 28 new cases were reported in Dharavi. So far, a total of 2134 corona patients have been reported in Dhari.
Today 435 new cases of corona have been reported in West Bengal and 12 people have died. 468 people were cured in the state. There have been a total of 12735 cases in the state. So far 7001 patients have been cured. There are 5216 active cases and 518 people have died. 510 new Corona cases have been reported in Gujarat and 31 people have died. There were a total of 25660 cases in the state, 1592 deaths so far.