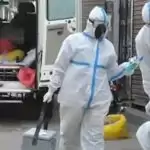 Mumbai: The total number of dead in the state crossed 20,000 on Sunday after the deaths of 288 more patients due to Corona virus infection in Maharashtra. A health officer of the state gave this information.
He said that 11,111 new cases were reported in the state, taking the total number of infection cases to 5,95,865. The official said that the number of deaths from infection is now 20,037.
After recovering on Sunday, a total of 8,837 patients were discharged from hospitals, after which the number of cured people in the state increased to 4,17,123. The official said that 1,58,395 patients are under treatment in the state now.
He said that there were 1,010 new cases and 47 deaths in Mumbai. This brought the number of infection cases in the city to 1,28,726 and the death toll to 7,133. The number of under-treated patients in Mumbai is 17,825. So far, 31,62,740 investigations have been conducted in the state.