New Delhi: Corona virus is becoming uncontrollable in India. Today there are more than 22 thousand cases of corona in India. According to the data received on Friday, today 22721 new cases have been confirmed. According to covid19india.org, 6,49,889 cases have been confirmed in the country so far. While 18,669 people have been killed.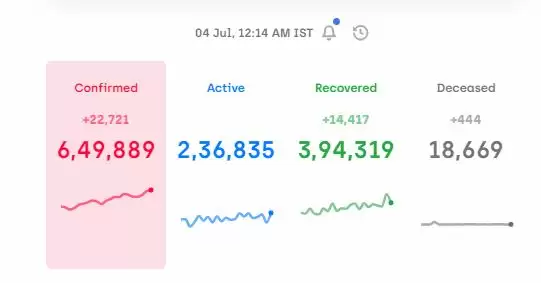 Maharashtra: 6,364 new patients of corona virus were reported in Maharashtra on Thursday, causing 1,92,990 cases of infection in the state. The state health department gave this information. The department said that the death toll due to the epidemic in the state rose to 8,376 with 198 more patients dying from the infection.
Delhi: 2,520 new cases of corona virus infection were reported in Delhi on Thursday, with the total number crossing 94,695 while the death toll rose to 2923.
Andhra Pradesh: In Andhra Pradesh, 837 new cases of corona virus were reported in the last 24 hours and with this the number of people infected with this deadly virus increased to 16,934 on Thursday in the state.