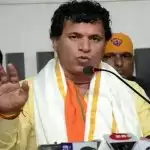 New Delhi: Union Minister of State for Agriculture Kailash Chaudhary has been infected with Corona virus. He himself gave information about it by tweeting. He tweeted, "Upon seeing the initial symptoms last night, there has been a report of corona positive under my medical examination.
He is admitted in a hospital in Jodhpur. It is noteworthy that Union Minister Chaudhary, who has come on a three-day visit to his parliamentary constituency Jaisalmer, has recently visited many places.
Earlier, leaders like Union Home Minister Amit Shah, Madhya Pradesh Chief Minister Shivraj Singh Chauhan, Karnataka Chief Minister BS Yeddyurappa have been infected.