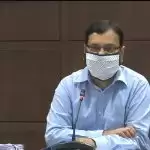 Lucknow: 21 more people infected with covid-19 died during the last 24 hours in Uttar Pradesh. With this, the death toll in the state has gone up to 550. Additional Chief Secretary of Medical and Health Department Amit Mohan Prasad said on Sunday that 21 more people have died due to corona during the last 24 hours in the state.
The death toll due to this virus in the state has now increased to 550. He told that till now 10,995 infected people have been completely cured. The percentage of patients recovering has increased to 62.01. Prasad said that a total of 16,125 samples have been tested in the state on Saturday and since the beginning five lakh 60 thousand 697 samples have been tested.
The number of testings is continuously increasing. He told that now we are going to start the antigen test in some selected districts soon. It will also be started in Lucknow, Kanpur, Varanasi, Gorakhpur along with the National Capital Region with more cases of infection. Prasad said that now we are going to give new speed to the surveillance work to stop the spread of covid-19.