Ubaidullah Nasir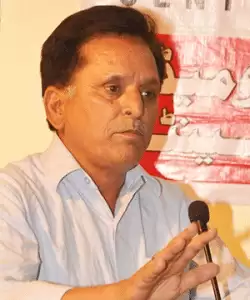 I think in 1917 when a British judge was in dilemma before Bapu who has refused to accept any of his offer except accepting punishment (The scene was very well shown in Atton Borough's film Gadhi ) .Bapu has said before the trial court of British judge"I do not ask for mercy.I do not appeal for magnamity. I am here, therefore, to cheerfully submit to any penalty that can lawfully be inflicted upon me for what the court has determined to be an offence and what appears to me to be the highest duty of a citizen." The story is repeated after 103 years when for the first time in its history, the Supreme Court of India finds itself in a dilemma before its own veteran lawyer Prashant Bhushan facing contempt of court case. He has repeated the same words of Bapu before the bench and has asked for punishment.Though the court find him guilty but is hesitating in pronouncing the quantum of punishment. Actually it is in search of escape route. It wants to save its skin by insisting that Mr. Prashant Bhushan should apologise for his comments against CJI but Mr. Bhushan is adamant that he has not committed any sin, any crime and not indulged in any sort of contempt of court so there is no question of apology, still if this hon'able court finds him guilty it should not hesitate in pronouncing punishment. This case has drawn attention of not only entire country but the whole world specially those from legal fraternity are watching the development. Many legal lumanaries including many retired judges of this highest court have suggested earlier that the Supreme court should not drag this case too long to the point of no return as Mr Bhushan's said tweet was not a comment on the court or any of its judgement but on certain action of CJI justice Bobde. The SC has given Mr Bhushan three days time to reconsider his decision of not apologizing but there is hardly any chance that Mr Bhushan will relent .He is on record to have said that he is fighting to restore the glory of this highest constitutional democratic institution." Open criticism of any institution is necessary to safeguard the constitutional order" he said in his submission. He also said "We are living through that moment of history when higher principles must trump routine obligations, when saving the constitutional order must come before personal and professional niceties, when considerations of the present must not come in the way of discharging our responsibility towards the future. Failing to speak up would have been a dereliction of duty".
Though Mr. Bhushan's case has become an example but fact remains that for the last six years our judiciary from trial court to highest court has submitted before the government and has given every possible benefit of doubt to the government to do whatever it likes. So much so that the SC has failed in protecting even fundamental rights of our people the burning example is of Kashmir the abrogation of article 370 is prima facie blatant violation of constitutional obligations almost one year has passed the SC has failed to decide its constitutionality but by not granting stay order provided government the opportunity to slice the state and turn the state into a big jail. Internet services of the state have yet not been restored only 2G has been restored that almost worthless. Veteran leader Saifuddin Soz is under house arrest photographs and videos have appeared showing Mr. Soz's house fenced, barricaded and surrounded by police force but the SC blindly accepted the governments assertion that he is not under house arrest and there is no any control or hindrance on his movement. Many national dailies wrote editorials against this blatant lie of government but the SC decided to look otherway. When Jamia students were attacked when JNU campus was converted into a battle field the SC did not came to the rescue of hapless students rather provided police and right wing goons to do whatever they like and a reign of terror was let loose on students. The police gave clean chit to right wingers and all blame was put on those who were at the receiving end. Be it the Ayodhya dispute rafale case or CBI cas the judgments of the SC have not added to its glory. Many retired SC judges including justice Lokur Justice Banerjee Justice Katju Justice Sawant etc. had openly critcised these judgements but the damage has been done. In certain case it seems our SC is repeating Pakistan's SC judgements on imposition of Martial law every time Martial law was imposed in Pakistan and it was challenged in SC the highest court gave judgements in favour of martial law terming it necessary under the doctrine of necessity .The trend was stopped when Justice Chaudhary became the CJ who told army "Don't even think of coming out of your barrack SC is standing before you gone are the days when Martial law was justified on the basis of doctrine of necessity.
Though the decline in the working of our constitutional bodies is not new but it took worst turn after Modi ji came at the helm of affairs. Every single such body has lost its teeth and is working in tandem with government not as an independent autonomous constitutional body but as an extension counter of the government. But the fall of judiciary and media is a real threat to constitutional democracy. Mr Bhushan's case must be an eye opener SC must ponder where it has erred how it has lost public confidence how on social media it is targeted and is named and shamed. Restoring its credibility,respect and public confidence is the prime duty and foremost task before the court rather than punishing Mr. Bhushan for what he has done as a biggest service to democracy and constitution.