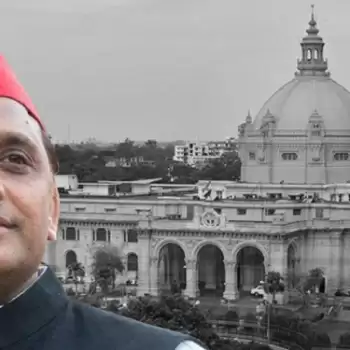 Riding on the anti-incumbency through state-wide Cycle Yatra, Akhilesh Yadav romped home Samajwadi Party (SP) with 224 seats out of 403 seats in 2012 Uttar Pradesh' Assembly elections in a multi-polar fight.
But the question is Will Akhilesh Yadav pull it off again in the upcoming UP Assembly election in 2022 after the recent drubbing in just concluded panchayat elections of Panchayat president and Block pramukhs in the state? This is a tricky question even for a SP loyalists to answer in a straight-forward "Yes'.
Since the situation on the ground is altogether different from 2012. BJP has emboldened in UP after 2014 Lok Sabha elections and shown dominance and expanded its voter base through social engineering in such is a short span of time across Hindu voters.
SP known for its Muslim+ Yadav (MY) factor, has tried all, in the last two elections but all in vain. In 2012 SP won maximum seats in its heartland of Central UP, and done exceptionally well in Rohailkhand & Eastern UP regions with the support of Muslims, Yadav, and Kurmi votes of OBC.
But, will it be easy to replicate the winning formula of 2012, in 2022 in a multi-cornered fight with no big alliance, where BJP's vote bank has not only risen to around 40% but remained intact in the last three elections from 2014 to 2019 in UP. While SP has lost its grip on its voters; from securing 224 seats with 29.15% in 2012 to stagnating at just 47 seats with only 21.8% votes in 2017.
UP is known as the heart of Indian politics and to remain in the heart both the SP and the Bahujan Samaj Party (BSP) have to work really hard to make inroads into the BJP's vote bank that has stayed with the party from 2014 Lok Sabha elections.
SP chief, Akhilesh Yadav, recently said that people in the state want change and SP will provide the much-needed change by ousting the Yogi Govt in the 2022 UP elections. He also emphasized that in this election the party will only forge an alliance with small political parties rather than the bigwigs due to failed experiences of the past.
SP is hopeful that the anti-incumbency factor growing against the Yogi government will work in favor of the party. After suffering a jolt in the 2017 elections the party is looking to revive its fortunes on the charisma of Akhilesh Yadav in the 2022 UP polls. SP leader Ghanshyam Tiwari says that the Yogi Government's mishandling of the Covid and its anti-people laws like 'Love jihad has enraged the public and people can't forget the specter where patients were dying without medical treatment and oxygen. He is hopeful that farmer's resentment and farmer protest in west UP will augur well for the party in next assembly polls. He also pointed that BJP's internal squabbles will spell doom for the Yogi dispensation in the next state polls.
But, Akhilesh Yadav seems reluctant to forging an alliance this time; even after the agreement with RLD, there was no formal announcement about the alliance. Party is also not even visible on the ground, much of the protests against the Yogi Govt were either launched by Congress leader Priyanka Gandhi Vadra or congress workers rather than SP cadre.
With the Samajwadi Party (SP) and Bahujan Samajwadi Party (BSP) set for a solo battle, the stage is set for a multi-cornered battle in the state.
However, political observers feel that a multi-cornered fight suits BJP "Opposition fighting against each other is obviously an advantage for BJP," says Sanjay Kumar, director CSDS. BJP with a near-40% vote share party could easily cross the finishing line in 2022, unless the main opposition parties join hands in UP.