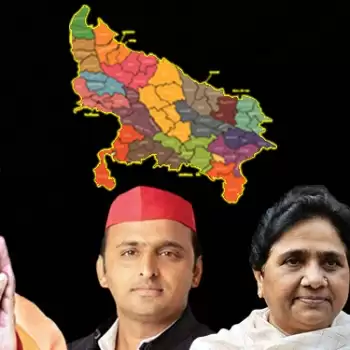 By: Dheeraj Upadhyay
@dheerajupadhyay
Political temperature in country's most populous and politically active state is on the rise. With about eight months still to go for UP Assembly polls 2022, battle lines have been drawn between major political parties. Even after Panchayat polls drubbing and miserable Covid handling, BJP can take a sigh of relief as far as the next UP state Assembly polls are concerned due to fragmented opposition in the state.
With UP being heading for a multi-polar contest with the Samajwadi Party (SP) and the Bahujan Samajwadi Party (BSP) contesting it separately; BJP could easily sail through in 2022 state polls, with its near 40 percent vote share that it maintained in last three elections since 2014 in UP.
BSP supremo Mayawati, reiterated that she will go alone refuting an alliance with Owaisi's All India Majlis-e-Ittehadul Muslimeen (AIMIM) in the next assembly polls. SP chief Akhilesh Yadav too is following the footsteps of Mayawati after his bad experience with two previous alliances with Congress and BSP in 2017 and 2019 respectively.
However, Akhilesh has maintained that SP would like to alliance with small parties in coming elections, including his estranged uncle Shivpal Yadav's Pragatisheel Samajwadi Party (PSP). However, SP has still not formalised an alliance with RLD or OP Rajbhar's SuhelDev Bhartiya Samaj Party (SPSP). Akhilesh Yadav is hoping that farmer protest and resentment in public against Covid mismanagement by Yogi Govt in UP augurs well for his party in the next state polls.
Meanwhile, the road to UP Vidhan Sabha seems to be bumpy for both the SP and the BSP in the present circumstances where BJP's has maintained its vote bank that stayed with it since 2014 Lok Sabha election to 2017 UP Assembly polls and even in 2019 parliamentary elections overcoming and SP-BSP formidable grand alliance.
Vote percentage of major parties in 2017 UP state elections-
In the 2017 UP Assembly elections, BJP has won 312 seats by securing 39.7% vote share. SP won 47 seats with 21.9% vote share. On the other hand BSP won only 19 seats by garnering 22.2 % vote share. While the Congress won 7 seats with 6.25 per cent vote share and Rashtriya Lok Dal (RLD) got 1 seat with 1.78 percent vote share.
So, if opposition wants to oust BJP from UP then they have to stitch an alliance in time, mainly of the four leading opposition parties which in 2017 though have won only 74 seats, but have got massive 52% vote share, much more than BJP's 39.7% of total votes polled.
Political observer RM Lal thinks 'that a multi-cornered fight in 2022 will be an advantage BJP if the main opposition parties fight each other, since BJP votes are intact since 2014 in Uttar Pradesh.