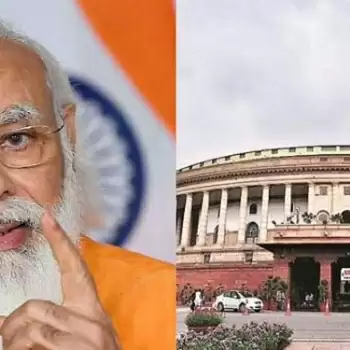 By: Dheeraj Upadhyay @dheerajupadhyay
Cabinet expansion in the Modi government is on the cards and likely to take place on 8th of July according to sources. Cabinet reshuffle buzz was doing the rounds in political circles for quite some time. The Union Cabinet, which can have up to 81 members, currently has 53 ministers and there are chances that between 22 -28 ministers will be inducted in the expansion.
As PM Modi expands his cabinet for the first time in his second term, though it is not clear who will get the chance in his cabinet but, five poll bound states are likely to get representation along with a balancing act of caste equation. Speculations are rife that Uttar Pradesh will get the maximum minsters given the fact that assembly elections are due in 2022 in the state.
Jyotiraditya Scindia, the man responsible for the collapse of the Congress government in Madhya Pradesh, seems to be a confirm contender and likely to be rewarded for his role in getting the state back to the BJP. He was already seen offering prayers at Ujjain's famous Mahakal temple this morning before reaching Delhi.
Former Assam chief minister Sarbananda Sonowal, who agreed to give up the Chief Minister's post after the BJP's win, is also likely to be accommodated in the cabinet.
Three to four ministers may find their place in the cabinet reshuffle from the electoral state of Uttar Pradesh. Anupriya Patel can get a place from Apna Dal. Since the party has an influence in its voters.
Bihar- RCP Singh, Santosh Kushwaha or Lalan Singh can get a chance from JDU.
MP- Jyotiraditya Scindia's name from MP is believed to be confirmed. The name of former MP BJP president and Jabalpur MP, Rakesh Singh is also doing the rounds.
Maharashtra- Former CM Narain Rane who shifted camps from Shiv Sena to BJP is also a strong contender for cabinet berth. Ranjeet Naik Nimbalkar and Hina Gavit, who switched from Congress to BJP, can be inducted in Modi cabinet.
West Bengal: Shantanu Thakur of Matua community in West Bengal too can get a ministerial post.
In addition to these, one minister each from Odisha, Jammu & Kashmir and Ladakh is likely to be inducted in the Modi cabinet. Modi will like to align more with its coalition partner this time to show BJP's inclusiveness after the pull out of allies like Shiv Sena and SAD. Modi is likey to include ministers from JDU, LJP, and YSR Congress into his cabinet.
BJP has also to accommodate its allies too. In the second term Modi's team has only one representative of RPI's Ramdas Athawale, leader of Dalit outfit, from a non-BJP constituent of NDA in the name of coalition, after Shiv Sena's Arvind Sawant and Shiromani Akali Dal's Harsimrat Kaur Badal pulled out of Modi govt due to rupture in ties and political compulsion while LJP founder Ramvilas Paswan passed away.
Sushil Modi, former Bihar deputy chief minister, who has been shifted to Delhi and is now a member of Rajya Sabha, is seen to get an opportunity due to his efficiency as minister and loyalty.