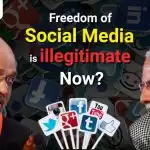 Garima Joshi
There comes a time when the police either get their assistants informed or break their hands and feet. Sometimes they are bribed in jail. Why so!
Probably because the police feel that my informer may not start informing me.
Like the police, the BJP is trying to weaken social media like that informer. Some users, annoyed by the central government's patrolling, are making such statements on social media. However, there are a large number of people who welcome the recent guideline of the government on social media. This decision is also being appreciated.
In India, the 'Modi BJP' also emerged with social media. BJP attacked Manmohan Singh's central government through social media. The opinion was decided on social media only to project Narendra Modi as the PM on behalf of the BJP. Prime Minister Narendra Modi's popularity was also assessed on social media. The then Prime Minister Manmohan Singh was also mocked on social media.
This digital weapon of the new India also caused a lot of damage. Social media has set a lot of riots, created hatred, poisoned communalism. Five-seven years ago, when the custom of social sites was increasing, it was the most misused by the haters. Riots were committed, murders took place, and in the fire of this hatred, polarization was consumed, which was eaten, and the politics of dividing the society was healed. Still, it was never controlled, but it was increased.
Ambani Group's Reliance Communication and now Jio revolutionized the world of Internet / Social Media in India. Smart phone came in the hands of children. Social media became a strong structure of Indian society in every village. The big capitalists / entrepreneurs of the country did not pay attention to hunger but made the data cheaper.
Thousands of things are coming out on the social media related guide line by the central government. This important decision of the government is being seen from both positive and negative points of view. Very interesting and sarcastic things are also happening. The social structure of India has become dependent on social media, so the government's decision to watch and monitor social media has brought a lot of buzz in the society.
India, with peasant-worker dominance, has also become a country with social media users. Even though there is poverty and backwardness, agriculture and wages are the main occupations here. Yet, eighty per cent of the people here are social media users, i.e. connected to the internet. Here the flour may be expensive, but the data is cheap.
India has the highest internet usage after China. India has the most significant number of Facebook users in the world. About one crore people here are connected to social media/internet. Three out of every five people are actively involved with social media.
Political parties have made social media the most significant weapon for spreading their propaganda and ideology. Congress, SP, AAP .. etc., are IT cells of all parties. But the IT cell of the BJP is said to be the largest, most robust and most influential. Home Minister Amit Shah himself recently said that the social media force of our workers is impressive. He also credited social media for the massive victory in the last UP assembly elections.
Given these things, the users are satirizing the Modi government at the centre and listening to this dialogue of Amitabh Bachchan's film Deewar –
jao pahle us aadmi ka sign lekar aao jisne mere baap ko chor kaha tha. jao pahle us aadmi ka sign lekar aao jismein meri maan ko gaali dekar naukri se nikal diya tha. pahle us aadmi ka sign lekar aao jisne mera haath par ye likh diya…uske baad…mere bhai tum jahan kahoge wahan sign kar doonga.
In the flow of this dialogue, users tell the central government:
jao pahle social media ki nayee gauidlines BJP ki us ghoshit-aghoshit IT Cell par lagoo karo jiski shaitaniyaon, jhooth-sach, nafrat-mohabbat, gappu-pappu aur bhavnaon ke bhadkaane ki kaarigari se BJP farsh se arsh par aa gayee.