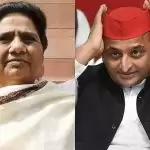 Ubaidullah Nasir
The skipping of opposition conclave called by Congress president Sonia Gandhi by SP, BSP and AAP may have surprised many but those aware of the politics of these parties and those who have been observing the political activities of these parties are convinced that this was but natural. AAP which has defeated BJP again after a bitter fight for Delhi assembly election changed its attitude towards Modi government immediately after the results were declared. So much so that it remained a mute spectator during Delhi riots which were actually pogrom let loose jointly by sanghi goons and Delhi police so much so that when its own minister rank leader Chairman of Delhi Minority Commission and veteran journalist Dr. Zafarul Islam Khan was charged with sedition law and police arrived at his residence to arrest him. Chief Minister Arvind kejrival and all other AAP leaders except local MLA Amanatullah Khan preferred silence. Even today when the Delhi police is making one sided arrests of Muslim youths and activists including pregnant Safoora Zargar Mr Kejrival and other AAP leaders are maintaining criminal silence only Sanjay Singh its RS member is vocal against Modi government but perhaps under instruction from Kejrival he too is silent on issue of one sided arbitrary arrests of Muslim youths and activists. Here we must not forget that Mr. Kejrival is the product of Anna movement which was sponsored by RSS.
Now come to UP politics its two major opposition parties SP and BSP are more vocal against Congress than BJP and its government lead by Yogi Adityanath. The limit was crossed by Ms. Mayavati when on the issue of buses provided by Congress General Secretary Ms. Priyanka Gandhi to ferry the stranded migrant workers from Delhi border to far off districts of eastern UP she sided with UP government whereas every reasonable person including not very friendly media specially news channels who were in habit of questioning Congress on every issue as if it was in power .The general opinion is that UP government should not have refused the offer of Ms. Priyanka Gandhi specially when it was first accepted and after this acceptance she provided buses at Delhi UP border. If the claim of UP government is accepted without any if and but 880 buses out of one thousand could have been used this would have ferried more than fifty thousand hapless hungry thirsty tired migrant workers to their destination. Not only this crossing every limit of decency and political ethics UP government filed a FIR against Congress UP Chief Ajay Kumar Lallu and Priyanka's PS Sandeep Singh accusing him of forgery and other sections and got Mr. Lallu arrested who is still languishing in jail. But Ms Mayavati choose to criticize Congress and didn't uttered even a single word against this highhandedness of UP government and BJP.
The love and hate relationship between Mr. Mulayam Singh Yadav and BJP is not a secret, he is a Lohiate for whom RSS had been better than Congress. It was Lohia's anti Congressism which gave RSS not only respectability acceptability but even power in sixties since then RSS and its political wing Jansangh and later BJP has been marching ahead and reached to the zenith of its political fortune. Secondly Mr. Mulayam Singh Yadav who had very cleverly snatched Congress most important vote bank the Muslims knows very well that without solid vote bank of almost twenty percent Muslims he could not politically survive on the basis of his 7% Yadav voters. Similar is the political compulsion of Ms. Mayavati she has snatched about 22% Dalit voters from Congress following this change in political dynamics of UP, Brahmins who too were solid vote bank of Congress moved towards BJP leaving Congress high and dry in political desert of UP. But after almost thirty years when both Muslims and Dalits realized that they were not getting their due from both these parties and leaders they began to see towards their old home Congress. Brahmins too are not very happy with BJP because in changed political dynamics BJP is more relying on its minus Yadav OBC and minus Jatav Dalit vote bank taking upper caste Thakur Brahmins and others like baniya kayasths etc. vote bank for granted.
After 2017 assembly election when BJP gave worst ever defeat to all its political rivals pushing BSP to third and Congress to poor fourth it was expected that all the three parties will jointly challenge BJP but thanks to certain charges of corruption and disproportionate assets against both Mulayam and Mayavati fearing ED and CBI both parties and leaders preferred calculated silence against BJP government both at centre and state.But Congress under the steward ship of Rahul Gandhi Priyanka Gandhi and its new state chief Ajay Kumar Lallu started challenging BJP governments at centre and state on every possible opportunity and every alleged anti people anti poor move of BJP governments including hike in electricity tariff petroleum prices CAA etc. For the last three years only Congress is seen fighting on UP roads against this government. Ms. Priyanka Gandhi general secretary incharge and Mr Lallu as party state unit chief leaves no opportunity to target UP government whereas on most of issues SP Chief Akhilesh Yadav only resorts to tweeting against UP government and Ms. Mayavati keeps silence. This has brought Congress to the rank of main opposition party in UP though in assembly it is poor fourth. This trend is naturally disturbing both SP & BSP, because like every regional party these two also considers Congress as their main rival because they are surviving on the traditional vote bank of Congress if Congress got back its traditional vote bank all the regional parties including SP BSP will be at great political disadvantage so the double fear of ED/CBI and expected loss of vote bank they have to target it more than BJP.