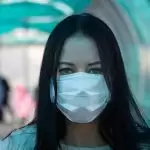 Coronavirus cases are increasing day by day. We all are waiting for a vaccine or some magic that will end these bad times that we are going through.
Sometimes, when we wake up, we get afraid whether we will be able to live longer or not.
Whether we will die soon or whether we will have a future are the uncertain thoughts that keeps going on in our mind always.
But do you know what, some precautionary measures can help you stay away from getting the coronavirus infection.
Try and try till you succeed, should be the mantra to live in these times.
If you see someone on the road, greet them without a physical contact.
Maintain atleast a distance of six feet from other people.
Wear homemade masks on the face that should cover your mouth and nose.
Do not keep touching your eyes, nose and mouth without any need.
Stay hygienic – wash your hands frequently and also bathe well.
Do not eat anything outside and not to spit anything in public places.
Keep your house and areas clean.
No need to travel without any need.
Do not believe in fake news. Watch only good channels to keep updated about the world happenings.
By Sahana Iyer