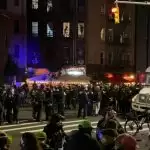 Washington: Authorities said at least 30 people have been arrested overnight in Portland, Ore., and New York City amid protests that erupted in response to the U.S. presidential election.
At least 10 people were arrested Wednesday evening in downtown Portland where a demonstration was declared a riot as police were pelted with projectiles, storefronts were smashed and ATMs were damaged.
Oregon Gov. Kate Brown activated the National Guard to assist local law enforcement with combating the widespread violence.
Police said a man arrested for throwing a molotov cocktail at officers was in possession of a loaded rifle, several ammunition magazines, an improvised explosive device, a knife, cans of spray paint and was wearing a tactical vest with ballistic plates when he was detained.