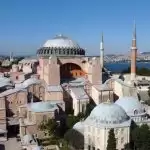 Turkish President Recep Tayyip Erdogan has rejected international condemnation over the decision to change the status of Istanbul's landmark Hagia Sophia from a museum to a mosque, saying it represented his country's will to use its "sovereign rights".
In the past, he has repeatedly called for the stunning building to be renamed as a mosque and in 2018, he recited a verse from the Quran at Hagia Sophia.
"Those who do not take a step against Islamophobia in their own countries … attack Turkey's will to use its sovereign rights," Erdogan said at a ceremony he attended via video-conference on Saturday.
The colossal Hagia Sophia was built 1,500 years ago as an Orthodox Christian cathedral and was converted into a mosque after the Ottomans conquered Constantinople, now Istanbul, in 1453. The secular Turkish government decided in 1934 to make it a museum.
Erdogan on Friday formally converted the building back into a mosque and declared it open for Muslim worship, hours after a high court annulled the 1934 decision turning it into a museum. He said Muslim prayers would begin at the UNESCO World Heritage Site on July 24.