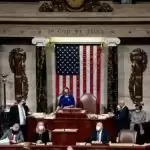 Washington: The House and Senate on Wednesday night voted to strike down an objection raised against Arizona's electoral votes after the process of confirming the result of the 2020 presidential election was delayed for several hours due to a siege on the Capitol building by supporters of President Donald Trump.
Senators voted 93-6 and the House voted 303-122 to reject the objection brought by Rep. Paul Gosar of Wyoming, Sen. Ted Cruz of Texas and other Republicans challenging Arizona's electors and prompting Congress to retire to their respective chambers for debate.
Cruz and his fellow Republican Sens. Josh Hawley, Cindy Hyde-Smith, Roger Marshall, John Kennedy and Tommy Tuberville voted to sustain the objection.
However, after Trump supporters stormed the Capitol, with some making their way to the Senate floor as members of Congress and Vice President Mike Pence were evacuated, several Republicans said they would no longer object to the election results.