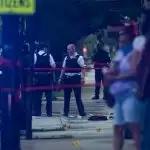 Chicago: At least 14 people were injured in a mass shooting that erupted at a Chicago funeral, authorities said.
Chicago Police First Deputy Supt. Eric Carter told reporters the shooting began at around 6:30 p.m. Tuesday when occupants of a black vehicle that drove up to the funeral home opened fire on attendees.
Those at the funeral then returned fire as the vehicle sped from the scene before crashing midway down the block, causing those inside to flee on foot in multiple directions, he said.
The 14 people injured, all believed to be adults, were transported to five area hospitals but their condition was unknown, Carter said, adding at least 60 bullet cases were retrieved from the scene.
"Right now, it's unknown if anyone was not a part of the funeral or a part of the vehicle," he said. "So out of the 14 victims, it's unknown right now if there were any innocent bystanders, so to speak, on the street."