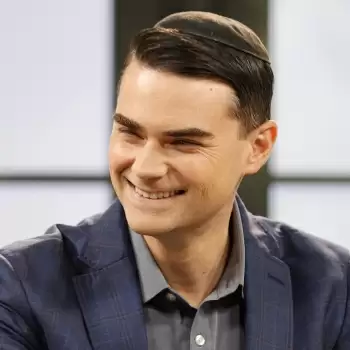 Ben Shapiro, the editor-in-chief of The Daily Wire and The York Times bestselling author and the host of Ben Shapiro Show, is a widely regarded debater of our time. He is an American-born media host, political commentator, and columnist, who became a national syndicate columnist at the young age of 17. The author of eleven books, Ben founded and become the editor-in-chief of the American News and Opinion Website – The Daily Wire in 2015.
Ben has many lovers and many haters too. But whether one agrees or not, Ben's political views are almost impossible to ignore, and without doubt, everyone has to agree that he is a great debater. Today Ben's worth is more than $28 Million.
Read also: Freida Pinto announce pregnancy
Ben's Early Life
Benjamin Aaron Shapiro, aka Ben Shapiro, was born in Los Angeles, California on January 15, 1984. Ben's parents were both with the Hollywood industry, where his father was a composer and his mother, an executive with a television company. He belongs to an orthodox Jewish family of Russian-Jewish and Lithuanian-Jewish origin.
Ben completed his early studies at the Walter Reed Middle School, and Yeshiva University High School. He graduated with a Bachelor of Arts and a degree in Political Scient from the University of California in the year 2004 and further cum laude from Harvard Law School in 2007.
Ben's Works and Achievements
Ben developed interest in politics from his young age. He started the national syndicate column when he was just 17 years of age and has already completed two books by the time he was 21. As an author some of his notable publications are:
2004 – Brainwashed: How Universities Indoctrinate America's Youth
2011 – Primetime Propaganda: The True Hollywood Story of How The Left Took Over Your TV (Published by Harper Collins)
2013 – Bullies: How the Left's Culture of Fear and Intimidation Silences American (Published by Threshold Editions)
2017 – True Allegiance (a fiction novel)
2019 – The Right Side of History: How Reason and Moral Purpose Made the West Great
Ben was the host of the radio program with KRLA-AM 870 in 2012. In the year 2016, he was appointed as the host of the popular radio show – The Morning Answer. In 2015, he formed the popular news and opinion website – The Daily Wire and became the host of one of the most popular online political podcasts – The Ben Shapiro Show. He acquired fame in the year 2018 with his much-acclaimed show – The Ben Shapiro Special Edition that talked about intersectionality and Hollywood. The show gained more than 8.4 million views.
Shapiro is a profound speaker and has spoken in many universities and colleges across the United States. Ben actively supported Ted Cruz, the presidential candidate in 2016, and opposed Donald Trump.
Ben supports the abortion ban and believes that doctors who conduct abortion, should be prosecuted. Women who opt for abortion, are being termed as 'baby killers' by Ben. Ben has actively participated and commented on some of the most critical topics of recent times, like the Israeli-Jerusalem conflict, Facebook, Gun Ownership, LGBT Issues, Muslims, and more.
Read also: Britney Spears' public support may not mean much in court
Ben's Personal Life
Ben was born on January 15, 1984. In the year 2008, he married an Israeli doctor, Mor Toledano. Coming from an orthodox Jewish background, the couple practices orthodox Judaism, and lives with their two daughters and a son in Los Angeles.