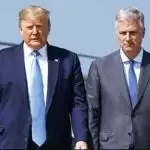 Washington: The Corona test report by Robert Trump, the national security adviser to US President Donald Trump, has come out positive.
The White House gave this information on Monday. A statement issued by the White House said that O'Brien, who played an important role in Trump's administration, is in isolation and working from there. The statement said that "there is no risk of infection in the President or the Vice President".
O'Brien, one of Trump's closest allies, recently returned from Europe, where he and his top deputy met with officials from the UK, France, Germany and Italy. A senior administration official told that Brian has been working at home since last one week.