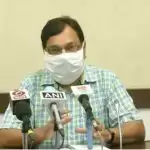 Lucknow: Corona virus infection is becoming uncontrollable in Uttar Pradesh. Today 2712 new cases of Covid-19 have been reported in the state. This is the highest number ever. Now more than two thousand new corona are being found in UP. The number of corona patients in the state has now crossed 60 thousand.
Uttar Pradesh Principal Health Secretary Amit Mohan Prasad said on Friday that the total number of infected in the state has reached 60 thousand 816 with 2712 new cases. Out of this, 37 thousand 712 people have been fully recovered after treatment and have been discharged from the hospital. At the same time 1348 people have lost their lives in the grip of this epidemic. 50 corona victims have died in the state.
Amit Mohan Prasad said that currently there are more than 21 thousand active cases of corona in UP, which are being treated in different hospitals.