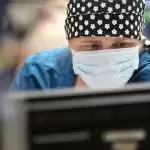 Nearly half a year after the first coronavirus cases were confirmed in mainland China, the pandemic has spread worldwide and surpassed the 9 million-cases milestone on Sunday.
The total stands at 9,044,563, according to tracking by Worldometers.info late Sunday. And about 5.2 percent of them have resulted in deaths: 470,665.
Roughly 0.12 percent of the 7.8 billion people in the world have contracted the disease. And the death toll is 60 per million people.
The outbreak started in China, then spread to Europe, especially Italy, before hitting hard in the United States, where the first death was reported on Feb. 29. The United States leads the world in deaths with more than 122,000 and 2.3 million cases — about one-quarter of the world totals. Seven-tenths of 1 percent of the population have tested positive and 369 per million have died from the virus.
The disease has been stabilizing in many parts of the world — with 4,428 additional deaths on Saturday compared with a high of 8,435 on April 17. But COVID-19's cases and deaths are mounting in Latin America — Brazil, Mexico, Peru, Chile — as well as India and Russia.
The first cases were confirmed on Dec. 31 in China but health experts believe people were infected with the virus months earlier in the most populous country of 1.5 billion people.
The first death from coronavirus was confirmed on Jan. 11 in the central Chinese city of Wuhan. In all, 4,634 people have died from the disease in the Asian nation, though no fatalities have been announced since April 27. And since then, only 522 cases have been added for a total of 83,378, including 26 on Sunday. One week ago, the 57 cases Sunday were the highest since 89.