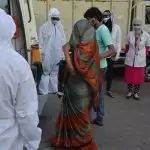 Meerut: According to the instructions of the state government, the testing of corona in Meerut has increased significantly. Now the number of samples has increased three to four times as compared to earlier. Perhaps this is why the number of new corona cases in Meerut has also increased considerably. More than fifty Covid patients were confirmed yesterday, while 43 new patients have been found even today, whereas after four days, one corona victim has also died.
In Meerut, the number of corona patients has now increased to 1159, out of which 309 patients are currently being treated while 784 people have been discharged. With one death today, the death toll from Corona has risen to 70.
Even today 2151 samples were sent for testing, while the test report of 2753 samples is still awaited. A total of 33568 samples have been tested so far, of which 29656 reports have come negative.