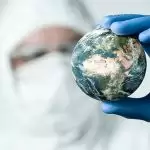 New Delhi: More than 1.17 crore people in the world have been affected by the corona virus. According to the Worldometer, more than one crore 17 lakh 44 thousand people are infected in the world, while the death toll has crossed 5 lakh 40 thousand. However, over 67 lakh people have also recovered.
The US still tops the list of countries most affected by Corona. Till now, 30 lakh people have been infected, while one lakh 32 thousand people have lost their lives. At the same time, Corona continues to wreak havoc in Brazil. Similar cases and deaths are being registered here in the United States. A total of 1.6 million people in Brazil are infected with the virus. After Brazil, the number of infected in India and Russia is the fastest growing in the world.
The number of corona cases in Brazil, Russia, Spain, UK, Italy, India, Peru, Chile, Italy, Iran, Mexico, Pakistan, Turkey, South Arabia and South Africa has crossed two lakh. At the same time, more than 1 lakh 90 thousand cases have also been reported in Germany. India has reached number three in terms of highest number of cases in the world, while number eight in the list of highest number of deaths.