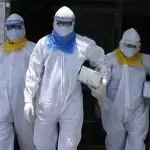 New Delhi: Corona virus epidemic in India has crossed 1.5 million. The death toll rose to over 34 thousand. There are 5 lakh 6 thousand 153 active cases of corona in India, while 9,61,215 patients have been cured. At the same time, 34,223 people have lost their lives due to Corona.
Maharashtra and Tamil Nadu have the highest number of corona cases in the country. On Tuesday, 6,972 new cases of corona were reported in Tamil Nadu, after which the number of patients has increased to 2,27,688. Today 88 people have died due to corona in Tamil Nadu.
In the last 24 hours in UP, 41 more patients died from covid-19. Also, 3,490 new cases of infection were reported. According to the bulletin issued late evening by the Health Department, 41 more people have died in the state in the last 24 hours. Six people died in Varanasi and Bareilly.
With 628 new cases of corona virus infection reported in Madhya Pradesh on Tuesday, a total of 29,217 people have been confirmed infected in the state so far. In the last 24 hours in the state, 10 more people have died due to this disease. So far 830 people have died due to corona virus infection in Madhya Pradesh.
Andhra Pradesh Chief Minister YS Jagan Mohan Reddy said on Tuesday that given the spread of Corona virus infection, it seems that we have to live with it. In Andhra Pradesh, 7,948 new cases of corona virus infection have been reported, after which the total number of infected people increased to 1,10,297 on Tuesday. So far, 52,622 patients have recovered and have been discharged from the hospital.