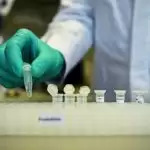 Chinese COVID-19 vaccine producer Sinovac Biotech has begun late-stage clinical trials of a vaccine in Indonesia in partnership with Indonesia's state-owned pharmaceutical firm PT Bio Farma.
The third phase of the vaccine test began Tuesday and is to involve as many as 1,620 volunteers in Indonesia, according to Turkish news service TRT World and Xinhua news agency.
A ceremony for the clinical trials was held in the hospital of Padjajaran University's School of Medicine in Bandung, West Java, where Indonesian President Joko "Jokowi" Widodo was in attendance.
Widodo had said in July Indonesia plans to manufacture a COVID-19 vaccine in partnership with Sinovac. Production would begin between January and April 2021, the Indonesian leader said.