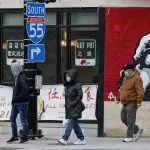 London: British Prime Minister Boris Johnson announced Tuesday that numerous coronavirus restrictions will be eased beginning July 4, when many businesses will be allowed to reopen.
The British leader said churches, bars, restaurants, hotels, hairdressers and barbers will be allowed to open and distancing rules will be relaxed from 2 meters to 1 meter.
"Where it is possible to keep two meters apart, people should," Johnson said. "But where it is not, we will advise people to keep a social distance of one-meter plus, meaning they should remain one-meter apart while taking mitigating measures to reduce the risk of transmission."
Johnson said churches will be allowed to reopen for prayers, services and weddings with a maximum capacity of 30 people.
Campsites will be allowed to open if they regularly disinfect washing facilities and restrooms.