Ubaidullah Nasir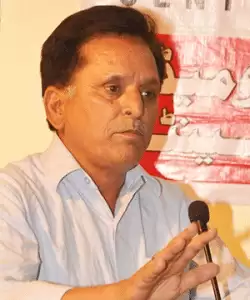 The upward swing of corona cases and downward swing of economy are going side by side. Corona cases are touching 3.5 million marks with death of about 58000 people. Unfortunately Modi government seems to have up its arms in helplessness on both front. Yes keeping in mind the forthcoming Bihar assembly elections some dose of muscular nationalism has been started to be injected among voters. Chief of defence staff General Rawat has issued a warning to China that if diplomatic efforts failed military option is open to get occupied land vacated. NIA too has made public its report on Pulwama attack .Actor Sushant Singh probe is reported daily on TV channels. These may be routine government work but the image of Modi government is such that a large section of our society believes that all this is the part of election campaign.
Politics apart let us have a look at our economy. Reserve Bank of India has indicated that the economy will take quite some time to mend and regain the pre Covid momentum as the shock and consumption is severe and poorest has been hit hardest. The bank has also hinted about the loss of recovery momentum since June with states imposing local lockdown. "The upstick that was visible in May and June after lockdown was eased in many parts of the country has lost strength in July and August due to imposition of stricter lockdowns suggesting that contraction in economic activity will prolong into the second quarter"said the RBI in its annual report for the year 2019-20 released on Tuesday."Our survey for the month of July indicated that consumer confidence fell to all time low with a majority of respondent expressing pessimism about general economic situation employment inflation and income" says the central bank. Observing that private consumption has lost its discretionary elements across the board particularly in transport services hospitality recreation and cultural activity" It said that behavioural restraints may prevent the normalization of demands for these activities.
THE central bank has warned that high frequency indicators so far points to a retrenchment activity that is unprecedented in the history. Job loss due to demonetization GST and unplanned silly national lockdown has crossed the hooping figure of about 15 crore.It will continue to increase due to privatization and sale of PSUs. Difficult to understand what Modi government has in its mind for the youths of this country. Rating agencies and analysts have forecast a contraction of up to 20 percent in the GDP in the first quarter of 2020-21. It may be due to Covid 19 but the slump has started from demonetization and since then our economy could not recover due to shocks after shocks some man made like demonetization and GST and some unprecedented mainly Covid 19.
Under this economic scenario states are the worst sufferer. Their source of income had mostly dried due to GST and its collection is so poor and worst managed that centre has failed to transfer the GST share to states. "State finance are under stress we are able to pay only salaries wages and pensions. We are heavily dependent on centre as 76 per cent of our revenue comes from centre " said Sushil Modi Bihar deputy CM and finance minister ahead of GST council meet. He requested centre to compensate GST to states even if it has to borrow. He said that though the centre is not legally bound to do so but it is its moral responsibility. He said that the states should be compensated because they can't borrow it is the centre that should borrow.It may be noted that compensation payments to states are pending for the last four months of this financial year. Senior BJP leader and Bihar deputy CM and finance minister Sushil Modi is the chairman of the ministerial panel on integrated GST.
But thanks God there is some good news from rural sector mainly agriculture forestry and fisheries which was excluded from lockdown restrictions. As per CARE rating these sectors are likely to grow by 3.5 per cent in the first quarter of this financial year. The farm sector is likely to register a positive growth even as the rest of the economy barring the government sector contracts. The decent performance ofnthe agriculture sector has been due to good rabi crop. The rise in farming activity together MGNREGA that has helped to a sharp drop in rural unemployment during this period. But prospects of broad based rural recovery are uncertain due to decline in other sectors that affects the rural economy top among them is the construction sector which adds to the income of rural populace. Rural households depends on sectors like construction manufacturing wholesale and retail trade to a greater extent than before how these activities grows up will decide the pace of recovery of broader rural economy. No doubt amid economic distress farm sector provides trust and hope but unless urban economic activity steps up jobs propsects increased demand boosts nothing better on economic front can be expected.