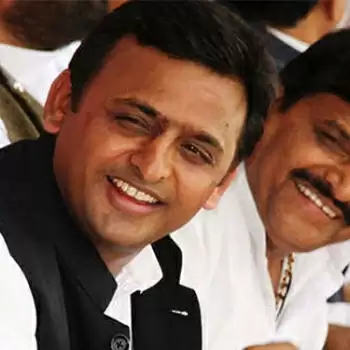 Khusroo Nizami
Known for his pleasant smile and treating journalist compassionately, the SP supremo Akhilesh Yadav has landed in an auckward situation in Moradabad few days back. Angers fumed in the political corridor over the thrashing of scribes of electronic media in the press conference of Akhilesh. Be the leaders riding cycle or the leaders from BJP. Later FIR were also filed from both the sides.
Then it was the estranged 'chacha' Shivpal yadav, who came into support of his 'bhatija' Akhilesh Yadav. He clearly said that Akhilesh was being targeted.
Both incidents do carry a clear message. The first incidents states that Akhilesh should have to learn lesson while handling journos. Counting few incidents before, Akhilesh landed in wrong water while answering the tricky questions of scribes. He has been often witnessed branding journalists on sale. Then on few occasions he can be witnessed greeting journalists on their birthday at the end of press conference in Lucknow. But these two characters can not go hand in hand, Akhilesh has to realise.
Coming to his chacha Shivpal. Once again, it has become evident that still there is a soft corner. Earlier Akhilesh has offered the ministerial berth to Shivpal if SP comes into power in 2022. Although Shivpal fumed on the offer but still he has the stand. He is open to the alliance or defeat BJP in Uttar Pradesh. Interestingly Akhilesh too is on the same note.
Last week in Saifai the estranged relation between the two resurfaced. Although in Courtney Akhilesh was quick to touch the feet of chacha Shivpal but was not enough to melt the ice. Sitting in the same pandal together accompanied by several family members, both of them avoided to exchange words politically or as closely knitted family members.
Though Akhilesh prefers to chose words before speaking on chacha, the chacha sometimes can been seen fuming. On one of the occasion in Etawah, he attached Akhilesh but without taking his name by saying that none can rise sans the respect towards elder. Then once Akhilesh replied that will he aliance with Shivpal"s Pragatisheel Samajwadi Party, he said that party and chacha are two different entities. Thus signalling that the alliance will be between the two political parties.
But why the chacha-bhateeja tussle hits the headline so often. Talking of Uttar Pradesh, Samajwadi Party is the main opposition party. While Akhilesh is trying hard to retain his party glory, Shivpal on the other hand is trying his level best to make his noticed in the Vidhan Sabha in 2022. Incidentally both have the common vote bank-OBC and Muslims. Now if they are in alliance then the vote bank will be united and if they fall apart, then the vote bank will fall apart too. Be the BJP or Congress, they will enjoy this differences politically. But the main beneficiary in this tussle will be BJP who are claiming to improve their performance in 2022. This is the reason why this tussle or indifference has so much political significance.
Coming back to Moradabad incident. Akhilesh may have left Moradabad on a sordid note personally but the words of Shivpal must have nursed him politically.