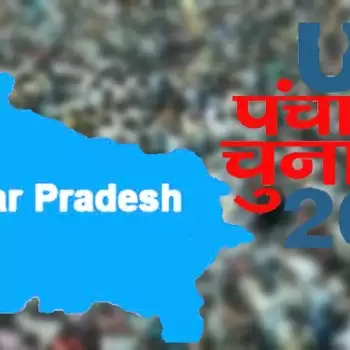 Ubaidullah Nasir

Though electioneering for three tier panchayat elections in Uttar Pradesh are becoming low key affair due to strict Covid 19 protocol, but the pomp show and enthusiasm that are the hall mark of these electioneering is missing. Even the nominations of candidates are a low key affair, earlier the nomination processions of candidates with cars, tractors, bikes followed by thousands of supporters were the usual scenes at districts, tahsils and block headquarter, but this time all these show and display of money power more than popularity of the candidate is lacking . It is alleged that the ruling BJP candidates are given some liberty whereas opposition candidates are facing administration's ire at the slightest slip in maintaining Covid-19 protocol. The Police have made elaborate security arrangement to ensure free and fair elections. According to informations the DGP office have prepared a plan under which one constable and one home guard will be deputed at every polling booth, this number may be increased in case of sensitive booths. Apart from state police and home guards 15 companies of central forces have also been called to police most sensitive polling stations and booths. On the other boot leggers those dealing in illicit arms are being rounded up moles in police force are also under vigil. Principal secretary panchayat raj have announced that polling staff will be provided insurance coverage according to the standard of assembly and general election.
Election and political blame game apart the fact is that Covid-19 cases are fast increasing in the state, more than 6500 people have been tested positive and about 35 people succumbing to it at the time of writing this report. So the strictness at the part of administration in ensuring that Covid-19 protocol are strictly adhered is justified but the problem arises when the administration becomes blatantly partial. Violation of Covid-19 protocol by ruling party candidates are overlooked and opposition candidates are subjected to harassment. Chief Minister Yogi Adityanath has ordered strict policing to ensure that crowd does not gather anywhere. According to the guide lines not more than 200 people should gather at an open place and not more than 100 people should gather in close places. Thus the candidates have no option but to contact the voters on personal level by reaching them door to door. Usually candidates move for electioneering with their supporters but due to these guidelines they have to maintain the social distance and cover their mouth with masks. All these hindrances have snatched the joy and enthusiasm of the candidates and voters simultaneously.
Experts are of the opinion that keeping in mind the surge of Covid-19 cases the panchayat elections should have been postponed at least for six months but since assembly elections too are nearing every party specially the ruling BJP wants to show its strength and popularity among voters which will pave their way to success in assembly elections neither ruling nor opposition parties wants panchayat elections to be postponed. They urge that if assembly elections could be held in five states with public rallies of leaders attended by thousands of peoples violating Covid-19 guidelines why Panchayat elections in UP could not be held.
Now that the election process has started and even nomination of candidates for first round of polling has been taking place the talk of postponing elections is fruitless but it is the responsibility of the candidates to ensure that Covid-19 protocols are adhered to strictly by their workers and supporters. The administration should also ensure level playing field for all candidates. Any discrimination on the basis of political affiliation will have no justification. Administration should show its impartiality and ensure free and fair election.