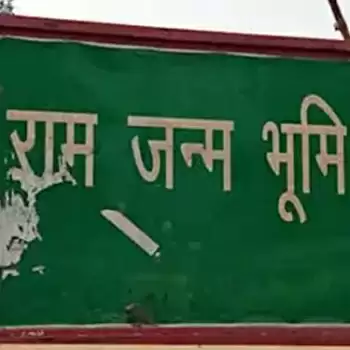 Ubaidullah Nasir

Ayodhya and Ram Janam Bhoomi Trust that was constituted to overlook the construction of Ram Mandir is once again in the news but unfortunately not for any good reason but for a biggest scam of about Rs. 18 Crore through a land deal .This allegation was simultaneously made by former state minister and senior Samajwadi Party leader Pawan Pandey who has represented Ayodhya in UP assembly and Sanjay Singh MP and Aam Aadmi Party leader .Both addressed media in Ayodhya and Lucknow respectively. Both demanded CBI probe into this controversial land deal. However, Shri Ram Janam Bhoomi kshetr Trust general secretary and senior RSS/VHP leader Champat Rai have refuted the charge and compared it with the assassination of Mahatma Gandhi for which RSS was blamed.(It must be noted that the Kapoor commission has confirmed the allegation )
The fact as told by SP and AAP leader is that on 18th March a piece of land having Gata no. 242,243 and 246 whose market value is supposed to be Rs. 5 crore was purchased by two land brokers Ravi Mohan Tiwari and Sultan Ansari in Rs. 2 crore from Kusum Pathak & Harish Pathak and minutes after the registry of the land it was sold to Ram Janam Bhoomi Trust at the price of Rs. 18 crore. Interestingly the witness for both the deals are same Ayodhya Mayor Hrishikesh Upadhyaya and Trust's member Anil Mishra and the stamp papers for both the deals were purchased by respective buyers within an interval of 15 minutes.
Trust general secretary Champat Rai refuting the allegation promised to probe the deal but said we have been facing such allegations time and again including the blame of assassination of Mahatma Gandhi. We do not fear allegation and will continue our work. Head priest of Shri Ram Janam Bhoomi Acharya Satyendra Das also denied the charges and term it as insult to the devotees of Shri Ram Lalla. On the other hand chief priest of Hanuman Garhi temple Mahant Raju Das demanded a probe into the allegation and said "if charges are proved to be true stern action must be taken against those found guilty and if proved wrong the I will file a 50 crore defamation suit against Singh. However the deal is crystal clear and papers including money transfer through RTGS are speaking for themselves then where is the need of any deep probe is a big question. It is clearly a diversionary tactics. Moreover who will probe the deal the buyer i.e. trust itself is not this a joke? Both Sanjay Singh and Pawan Pandey have demanded CBI probe. Trust should agree on this demand if it genuinely wants a probe.
Since the beginning of the Ayodhya movement contribution worth billions has poured not only from India but from foreign devotees also including silver and gold bricks. After the SC judgement the VHP started collecting fund from devotees from all over the country. A contribution from Rs. 10/- to lakhs was made by the devotees including President of India. But its account from receipt to expenditure have always been a top secret. No body knows how much amount has ben collected so far and where the money has been spent and how much remains in its bank account.
However Mr. Champat Rai has clarified that Trust has received Rs. 3200 Crore till March 31. According to him 11 crore families from 5.37 lakh places across the country were contacted during the campaign and Rs 60/- lakh was collected in the donation box of the proposed temple. But how much money was earlier received and how that has been spent is yet not clear. Since the trust was constituted by the government under instruction from Supreme Court and a senior officer and trusted person of Prime Minister Narendra Mr. Nripen Mishra was made its chairman. Will it not be in the fitness of thing that the account of trust is audited by CAG.