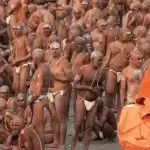 Ubaidullah Nasir

The second wave of pandemic Covid 19 has proved to be very deadly and the health care system in UP has collapsed not only hospitals are over crowded not only ambulances and other facilities are not available but even burial grounds of both communities Shamshans for Hidnus and Qabristan for Muslims too are over crowded. The gravity of the situation could well be understood that even a state cabinet minister and a ruling party MP have criticized the health care facility in capital Lucknow. No day passes with the news of more than a dozen deaths in the state capital. Though the city administration has imposed night curfew but carelessness at the part of citizens is adding more and more problems before the health care system. Markets are crowded as usual eateries are doing business almost as usual however the night curfew imposed by the administration has compelled these eateries specially serving non veg. foods have to down their shutters. The holy month of Ramzan was usually boom period for these eateries specially in Nazirabad and Akbari gate area of state capital but now they wore a deserted look.
Government has also imposed a ban on religious gatherings, according to government order not more than five persons could enter into any religious building of all the religions. Chief Minsiter Yogi Adityanth in a tweet have requested the citizens to follow these orders and avoid mass gathering into religious places. He said that "people's Aastha ( faith) is important but human life is more important when human life is safe only then he /she may express and follow his /her aastha". This was a sane message specially from a person for whom Aastha is important even more than adhering to constitutional obligations. Yogi ji never hides his emotions in expressing his aastha and a champion of RSS brand of Hindutva which discriminates people on basis of one religion. But the Covid protocols are blatantly violated in election campaign for three tier Panchayat elections going on in UP. In Bengal and other states that went to polls this violation could be seen in its ugliest form. The same is visible in on going Kumbh Mela in Haridwar where more than million people have gathered to take holy dip in Ganga. Laughable arguments are being given by BJP RSS leaders for this Kumbh where according to informations more than 500 people including RSS Chief Mohan Bhagwat have been found Corona positive. However, Chaitra Navratri mela in Ayodhya began on a low key note as devotees restrained themselves from visiting temples. In both Badi and Chhoti devkali temples in Ayodhya not more than five devotees were allowed to enter the temple. This guideline is also being followed by mosques where no entry is allowed without mask and not more than five people are being allowed to enter even for special taravih namaz that is offered only in the holy month of Ramzan. However, there are also information that the norm of five people is violated at many places and in many mosques. That must be condemned and action must be taken by the administration. The Islamic Centre of India has clarified that vaccination even during fasting period is justified and right. Getting vaccination will not affect the fasting as vaccination is taken in arms and not in stomach
In a video conferencing with religious leaders both governor Aanandi Ben Patel and Chief Minister Yogi Adityanath sought their cooperation in containing Covid-19. Both of them urged these leaders to keep people away from rumours and motivate them to get both doses of vaccination specially to those who are above 45 years of age. They also urged these religious leaders to motivate the people to follow all Covid-19 protocols specially wearing masks keeping physical distance and washing both hands regularly and going out only in case of emergency. The norm of entering only five peoples in religious places should be adhered to strictly and religious leaders could play important role in getting these lines adhered by the people which are in their own interest.
Situation is getting from bad to worst, everyone must do his /her best to protect themselves and their nears and dears by strictly adhering to all guide lines issued by administration. Crowds must be avoided, masks hand washing physical distance must not only be maintained but must be made a habit.