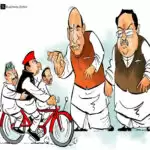 BY ATUL CHANDRA
Bharatiya Janata Party has deployed its big guns JP Nadda, Rajnath Singh and Amit Shah to take on Samajwadi Party's Akhilesh Yadav whose stock has risen substantially over the last few weeks and to neutralize the impact of farmers' agitation. Prime Minister Narendra Modi, whose image took a hit after the decision to repeal the three farm laws, is there to monitor the situation overall. Its foot soldiers include "panna" (page) in-charges at the booth level.
These are big measures and suggest that the BJP is a little unsure of the party's chances in Uttar Pradesh. The party is also aware that UP Assembly election results in UP will have a bearing on its prospects in the 2024 Lok Sabha elections. Repealing of the three controversial farm laws is part of the exercise to placate farmers in western UP and Punjab. At the same time the communal pot is being kept on simmer with "chacha", Jinnah jibes. As the stakes are high the BJP is launching one development project after another, the latest being the Jewar airport which is going to be the state's fifth international airport. The prime minister will lay its foundation stone on November 25.
Read also: Yes, I was invited for cruiser party: Maha Congress minister
Samajwadi Party, on the other hand, is slowly but surely building alliances. After Suheldev Bahujan Samaj Party, it is in talks with the Rashtriya Lok Dal and the Aam Admi Party for seat-sharing. Good response to Akhilesh's night-long rath yatra and probable consolidation of Muslim votes in his favour make him a strong challenger to BJP. And that is unnerving the BJP.
The SP's alliance with RLD will lend strength to the party in western UP where farmers are unhappy with the BJP despite the farm laws being repealed. Having tasted blood they now want a law on minimum support price and seem determined to continue their agitation. If the farmers' sentiment does not change the BJP could be facing a tough election in 2022. That coupled with Muslim support will further boost SP's chances.
Read also: Does Purvanchal hold the key to 2022 UP assembly elections?
Led by its MP Sanjay Singh, Aam Admi Party, though a relatively new entrant in UP politics, has been working hard to gain a foothold in the state. The likely seat sharing agreement may be beneficial for both AAP and the SP.
Mayawati, on the other hand, is not being seen as a strong contender in these elections. After lying low for a long time and being perceived as BJP's 'B' team Mayawati is trying to stage a comeback. The perception of BSP being a proxy of the BJP is so strong that it is unlikely to win back the trust of Muslim voters. That is why Mayawati's focus is on Dalit and Brahmin votes. Even this combination may not work as Brahmins may choose to go with the BJP.
Read also: BJP in UP to woo Muslim voters in a big way
Elections in UP are always complex but they have become more so this time with the entry of AAP, a somewhat rejuvenated Congress and a weakened BSP. Ideally this should make any prediction easier but for communalism which deepens the divide on religious lines.