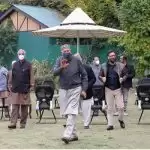 Such terminology hurts the feelings of Kashmiris.
Ubaidullah Nasir
After more than a year when article 370 was removed and special status of Jammu and Kashmir was done away the central government in its wisdom took a calculated decision of starting political process in the valley by conducting district development council elections in December. Main stream political parties of the state National Conference(NC), People's democratic party (PDP), left parties J&K people's conference etc. who have earlier came under an umbrella to fight for the restoration of article 370.The alliance of these parties was named people's alliance for Gupkar declaration(PAGD). This alliance first decided to boycott these elections but later decided to contest the elections jointly. Perhaps this disturbed the planning of union Home Minister Amit Shah who has planned that the main stream political parties will boycott the election BJP will be only party contesting the election. This will be doubly beneficial for BJP. On onea hand it will be able to spread its wings in the valley on the other will show the world that its victory in local bodies election is the proof that people of valley have approved its decision of revoking article 370 but the alliance decision to contest the election have thrown cold water of Amit Shah's scheme this naturally unnerved him. He could not hide his anger and termed the alliance as Gupkar gang. It is not new for BJP it is in habit of calling its political opponents with name like Tukde Tukde gang,Khan market gang,secular gang rashtr drohi (anti national) etc.BJP leadership has read the writings on the wall. BJP saw reduced seat share in recently held Ladakh council election and knows that its performance in forthcoming district development council elections will be more bad and it could not face the joint force of main stream political parties of the valley.
Ahead of the first district development council election union home minster Amit shah called the PAGD as Gupkar gang and said that it along with Congress wanted to take J&K back to the era of terror and turmoil. He also blamed that PAGD wanted foreign forces to interfere in J&K. Perhaps he was hinting towards Dr. Farooq Abdullah's earlier statement that China may interfere in J&k in case article 370 is not restored. This statement from a seasoned politician like Dr. Farooq Abdullah was unnecessary and uncalled for this has done a disservice to the cause for which Dr. Farooq Abdullah Ms. Mahbooba Mufti and others in J&K have joined hands. He must have realized that this statement will be used not lonely against him but against his mission also.
In a series of tweets Mr. Amit Shah said "The Gupkar gang is going global they wants foreign forces to intervene in J&K. This gang also insults India's tricolor". In a clever move he also involves Congress with his so called "Gupkar gang" and asks Congress President Sonia Gandhi and Rahul Gandhi to clarify Whether they support the move of Gupkar gang. The position was clarified by Mr. Randeep Surjewala clarified that Congress was contesting these elections in alliance with PAGD and has no electoral understanding with it. Congress state Chief Ghulam Ahmad Mir clarified that we have never participated in any meeting of PAGD so where is the question of our being a part of this alliance. However,we are in deliberations for some seats based on winnability" he said.
Here two major points needs to be clarified though parliament passed the bill regarding abrogation of article 370 and after signature by the president of India it became an act but the manner in which it was abrogated is prima facie unconstitutional. It has been challenged in the SC but the apex court in its wisdom has yet not taken up the matter except issuing notice to union government. Many constitutional experts including retired judges of SC itself have raised question on dilly dallying tactics of the SC. This is the matter of utmost importance because the entire constitutional system is at stake but the SC is adopting the policy of wait and watch. Mr Shah and others should also wait for its judgement .
The language used by Mr. Amit Shah is under severe criticism. Leaders of J&K and political parties there are well with in their rights to join hands forms alliance and contest election jointly. Calling them as gang is most unfortunate by anyone what to say of union home minister and by all standards of a civilized behavior. Many national dailies including some important Hindi papers have taken strong exception to the language of Mr. Amit Shah. He has been advised not to forget that except left parties all the parties in PAGD have once been BJP's partner for example BJP has formed government in J&K with PDP and Dr. Farooq Abdullah's son Umar Abdullah has been a member of Atal ji's cabinet.
Mr Amit Shah as union home minister should have welcomed the decision of PGAD to contest these district development council elections but he preferred to remain a BJP leader.He should have shown maganamity and statesmanship rather than making such irresponsible statement.