Ubaidullah Nasir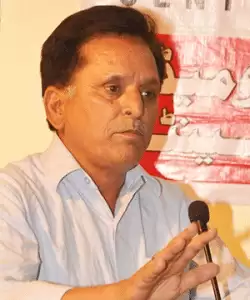 After Bakeru (of Kanpur distt.) incident in which 8 policemen were brutally murdered by notorious gangster Vikas Dubey and subsequent police encounter killing of almost all the sharp shooters involved in this ghastly act the Brahmin community has suddenly come at the centre stage of UP politics. No doubt Vikas Dubey and his gang men have committed such a heinous crime that they don't deserve any slightest sympathy but the way they all have been killed has raised a question mark on the entire legal system of a constitutional democratic system. Almost all the ganster were killed in dubious police encounter and encounter of Vikas Dubey was false and orchestrated is clear as a day light. Secondly the treatment meted out to his widow and teenaged son and another gangster who was killed in encounter was married just two days what were the crimes of these people that they were treated in most brutal and inhuman manner. Though the entire incident is being probed by a Supreme Court appointed committee but unfortunately over the years such investigations have lost their trust among masses.
These incidents have unnerved the Brahmin community of the state so many incidents followed in which members of Brahmin community were killed, recent being an incident in Pratapgarh district where a Brahmin and his son were cut into pieces in broad daylight during a Panchayat meeting where they have gone to plead their case in land dispute. According to a NGO working for the welfare of Brahmin community about 670 Brahmins have been killed indifferent incidents during three and half year rule of Yogi Aditya Nath a Thakur by caste. A young Brahmin said "it seems as if Thakur Ajay Singh Bisht (original name of Yogi ji ) is taking the revenge of Bhagwan Parshuram who according to mythological story has cleansed the word from Kshatriyas". Not only this Brahmins officers are also allegedly being discriminated in postings though Addl.Chief Secretary Awanish Awasthi and state Police Chief Hitesh Chandra Awasthi both are from Brahmin community but overall posting specially in districts is said to be very low. Officers of a particular community (read Thakur) are being posted at districts said Dr. Uma Shankar Pandey, he reminded how Yogi ji after becoming CM kept vacant post of the DGP for about a month to bring a thakur OP Singh to this post. These allegations may or may not be true but the fact is that Brahmins in UP are feeling discriminated alienated and marginalized. There were the days when Brahmins were at the top UP has six Brahmins Chief Ministers which perhaps no other state had but now they seems to be far away from this prime post. BJP and earlier Jansangh were considered Brahmins and Baniya party but in 1991 when party first got opportunity to form its full majority government it was expected that either state party Chief Kalraj Mishra or two other senior leaders late Brahm Dutt Dwivedi or Kesri Nath Tripathi will be the chief minister but an OBC Kalyan Singh was crowned as CM followed by Rajnath Singh and Ram Prakash Gupta.Even in 2017 when BJP got another opportunity to form government in UP the choice of BJP High Command for the coveted post was not any Brahmin but a Kayasth Manoj Sinha however, Yogi ji suddenly appeared as a black horse and snatched the post from the teeth of high command. So much so that in recent by election for Rajya sabha BJP preferred a candidate of Nishad community and not a Brahmin. Actually BJP political strategy has changed it is now depending more on OBC (may be non Yadav) and SC/ST (may be non Jatav) than its traditional vote bank of Brahmin and Baniya. It is taking support of these community for granted.
This anger and sense of alienation has electrified opposition parties to woo the Brahmins. Samajvadi party a product of Mandal politics announced certain lollypops for the Brahmin community top among them was the construction of highest ever statue of Bhagwan Parshuram why the BSP then could remain behind it announced that it will install Parshuram statue in every district. Had any one specially Brahmins forgotten BSP slogan "Tilak tarzu aur talwar –inko maro joote char". But the politics is not static it is dynamic much water has flowed down since then in Ganga . Sensing the mood of Brahmins and their political importance BJP also announced some lolly pop to the community. BJP leader Umesh Dwivedi announced accident insurance for the members of Brahmin community through his NGO though officially BJP has not accepted this offer but it has kicked up a political slugfest both SP and BSP are blaming it for playing politics conveniently forgetting that the game was started by them. In another development a BJP MLA Devmani Dwivedi has served a notice in UP assembly secretariat for raising the issue of atrocities on the Brahmins.In his short term notice he hs sought to know how many Brahmins were killed during last three years and have many accused have been arrested and how many have been convicted.He has also asked that is there any plan to ensure safety of Brahmins by providing them arms licences.
In this wooing game of 10% strong Brahmin voters Congress has yet not opened its card one of its senior leader and chairman of its intellectual cell Sampoornanand Mishra says that Congress never indulged in politics of caste and religion ours is an umbrella organization that covers all communities irrespective of caste and religions. However, state party Chief Ajay Kumar Lallu while asserting party's inclusive politics irrespective of caste and religion reminded that Congress is the natural home of Brahmins and under given political and social atmosphere their home coming is but obvious.
One thing is quite clear that alienation of Brahmins from BJP is final, where will they go during forthcoming assembly election remains to be seen.