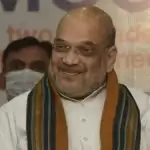 Amit Shah, the Union Home Minister, will travel to Uttarakhand today to support the BJP's campaign ahead of the upcoming Assembly elections. The Home Minister will begin his tour by praying at Rudraprayag's Baba Rudranath Temple. After that, he'll speak to veterans.
Read also- Amit Shah attacked Akhilesh and Mayawati while urging people of Greater Noida
Following that, Shah will speak to Mahila Samuh Baithak, followed by his Anusoochit Jaati Samaj Baithak. The last time a prominent BJP leader visited the election-bound state was in October 2021.
During his visit, Amit Shah kicked off the BJP's election campaign with a rally in Dehradun on October 30. Yogi Adityanath, the Chief Minister of Uttar Pradesh, will be at Meerut today.
Assembly elections are scheduled for next month in Uttarakhand, Uttar Pradesh, Punjab, Manipur, and Goa. Between February 10 and March 10, Uttar Pradesh will have a seven-phase election.
Read also- Punjab Assembly Elections: LIP will fight without any alliance
On February 14, Uttarakhand and Goa will vote in a single phase, while Punjab will vote on February 20. Polling will take place in Manipur on February 27 and March 3. On March 10, the results will be announced.