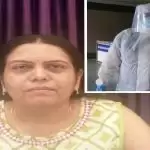 White Coat Angels
July 1st is celebrated as doctor's day all over India. This year, more than ever, our hearts were overflowing with love and gratitude for our valiant doctors. The ones who have kept the hope alive in our hearts even in such grim circumstances.
In times when we are scared to even step out of our houses, these white coat angels step into their workplace every day, just for us. Their workplace-the hospitals, are flooded with corona infected patients. This doctor day I had the privilege to talk to Dr. Ramila Jamliya and get a little insight on how the situation feels from the other side.
"Once we step into the hospital all other thoughts leave our mind. All we see is rooms full of patients and all we think is that we have to save them."
Her words increased my respect not just for doctors but for the entire medical staff manifolds. Despite no vaccine, the way these doctors are challenging novel corona virus is far than just praiseworthy. Majority of the doctors try to eat and hydrate themselves well before their duty begins. As once they start attending to patients they don't stop before their shift ends. They have to begin and carry forward the treatment for every patient depending on the stage of the disease at which he has been brought to the hospital. Due to pressing conditions most of the times their duty extends much beyond eight hours and they are able to get out of their PPE and eat something only post that.
To provide maximum protection to the wearer the PPEs are made of impermeable material. However, this also means that wearer's body is not able to breathe freely inside it. 'Wearing a PPE and running from one patient to other, we sweat profusely, it gets very hot. Even the temperature of the hospital is maintained at room high to prevent the spread of infection. Due to constant sweating and breathing, many a times the see trough face screen of our suit gets cloudy. But opening and cleaning it would simply mean infecting ourselves, so we just stay with it till it settles on its own. Also, with PPE on we can't have water or use washroom facilities.' said Dr. Jamliya.
She further explained that even doctors and hospital staff have to undergo quarantine for their and their patients' safety. Being surrounded with corona patients all day they stand a high risk of getting infected. For this, doctors are divided into groups. Number of working days are fixed for groups, post which they undergo quarantine and other group of doctors takes over. They don't visit their homes during the working days and during the quarantine period too they stay in hotels and guest houses designated as quarantine facilities by the government. After quarantine if they are lucky enough, they get to visit their home for few days. However due to constant increase in corona cases and limited medical staff, staying with their families have become a rare thing for many doctors.
"Some of the doctors have not visited their home since last three months. They miss their families, their kids. Some lady doctors have young babies at home. But being a Doctor, we have our duties to attend to."
It's not just doctors, the hard work of nurses, ward boys and other hospital staff can't be ignored too. Nurses and ward boys are on their feet all day, keeping individual records of infected patients, taking care of their food, medicines, cleanliness and sanitization. As the dead bodies of corona patients are not handed to their families hence the junior staff also has to take care of this responsibility. They segregate bodies as per deceased's religion. If the body is to be buried, they thoroughly wrap them in plastic sheets, disinfect it from outside and then transfer them to the respective burial grounds; while if they are to be cremated, then too they are taken to the crematorium in leak proof plastic bags. Hospital vehicles and staff dedicated to this duty make numerous rounds to the burial grounds and crematorium in a day. There is hardly a time when they return and another body is not waiting for them. Dr. Jamliya also told that people on this particular duty are often hit by depression and I could easily understand that.
Concluding this article well is very difficult task for me. I don't have words so profound which can even meet an iota of what our brave health workers are doing for us- risking their lives, staying away from their families, working in difficult situations surrounded with death and yet determined to save as many lives as possible.
RESPECT!!