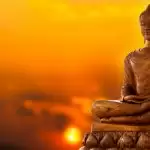 Little dose of everyday wisdom
Buddhism and its teachings have always inspired me. Over centuries its simplicity and serenity has attracted people from all over the world and from all walks of life.
Teachings of Gautam Buddha carry treasures of timeless wisdom and truth. Not just the ones following Buddhism, but everyone can learn a lot from them. One can apply these teachings in life to find peace, stability and true happiness.
In this article I bring you few selected Buddha quotes, nothing less than pure shining pearls which are most needed in today's times when things like depression, anxiety, loneliness have found their way in almost everyone's life.
Every morning we are born again. What we do today is what matters the most.
Do not dwell in the past, do not dream of the future. Concentrate the mind on the present moment.
Happiness will never come to those who fail to appreciate what they already have.
Everything that has a beginning has an ending. Make your peace with that and all will be well.
Your worst enemy cannot harm you as much as your thoughts.
Holding onto anger is like drinking poison and expecting the other person to die.
Tongue is like a sharp knife. It kills without drawing blood.
To keep the body in good health is a duty, otherwise we shall not be able to keep our mind strong and clear.
True love is born from understanding.
Peace comes from within. Do not seek it without.
Hatred does not cease through hatred at any time. Hatred ceases through love. This is an unalterable law.
And to conclude the article, here is my personal favourite –
In the end these things matter the most- how well did you love, how fully did you live, how deeply did you let go.