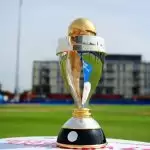 Dubai: The ICC Women's ODI World Cup 2022 will be held in New Zealand from March 4 and its final will be played on April 3. The International Cricket Council (ICC) announced it on Tuesday.
The Women's World Cup was earlier scheduled to be held in 2021 but the ICC postponed it until 2022 due to the Corona epidemic. The ICC released its revised schedule on Tuesday. Eight teams from around the world will participate in this 50-over tournament and a total of 31 matches will be conducted in six cities of New Zealand.
Matches will be held at Auckland's Eden Park, Hamilton's Sedan Park, Tauranga's Bay Oval, Wellington's Basin Reserve, Christchurch's Hegley Oval and Dunedin's University Oval. The semi-finals will be held in Christchurch and Wellington while the final match will be played in Christchurch.
Hosts New Zealand, Australia, England, South Africa and India have already qualified for the tournament, while the other three teams will be selected through the ICC qualifying tournament. The qualifying tournament will be held in Sri Lanka from 26 June to 10 July 2021. The World Cup will begin with a match against New Zealand and one of the qualifiers.