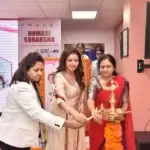 Under "Mission Shakti-Phase 3.0", a program aimed at women's safety awareness by Women and Child Safety Organization (1090) and Shri Ramswarup Memorial University, Lucknow, "Community Engagement Initiative of WCSO (1090) " was organized at Shri Ramswaroop Memorial University, Lucknow.
The program was attended by famous Bollywood actress Bhagyashree as the chief guest.
In this "Community Engagement Initiative" program organized in the premises of SRMU, short about the working of 1090 by the Additional Superintendent of Police of Women and Child Security Organization (1090) Mrs. Niti Dwivedi and Ms. Monika Yadav, Deputy Superintendent of Police. Through films and presentation of street plays by the team of 1090, they were made aware by communicating directly with the people present.
On this occasion, Smt. Neera Rawat (IPS), Additional Director General of Police, Women and Child Security Organization in her address on various aspects of women's safety and online public-awareness campaign run by 1090. Detail information was given about ' #HumForHer ' and '#FarqPadtaHai.
SRM in the program University's Pro-Chancellor Engg. The guests were welcomed by Pooja Aggarwal and Vice Chancellor Prof. AK Singh and assured to provide all possible support by their organization for this great campaign of Uttar Pradesh government and women's safety.
The Chief Guest, the famous Bollywood actress Bhagyashree, praised the efforts being made by the UP Police in the direction of women's safety and empowerment and the working of 1090 and all the students were motivated to join this campaign. Bhagya Shree was asked many interesting questions by the students, in response to a question asked by a student, she sang the song "Aate Jaate haste gaate…." from the movie "Maine Pyar Kiya".
Apart from this, officers of Women and Child Security Organization (1090) Shri Ravi Shankar Chhabi Deputy Inspector General of Police, Shri Raghavendra Dwivedi State Radio Officer Safe City Project, Shri Virendra Kumar Additional Superintendent of Police/Staff Officer and other officers/employees and S.R.M. . About 300 people including Dr. Veena Singh, Dr. Gurdeep and other professors/teachers, students/girls, parents, employees of the university participated in the program. The programme was anchored by RJ Rashi.