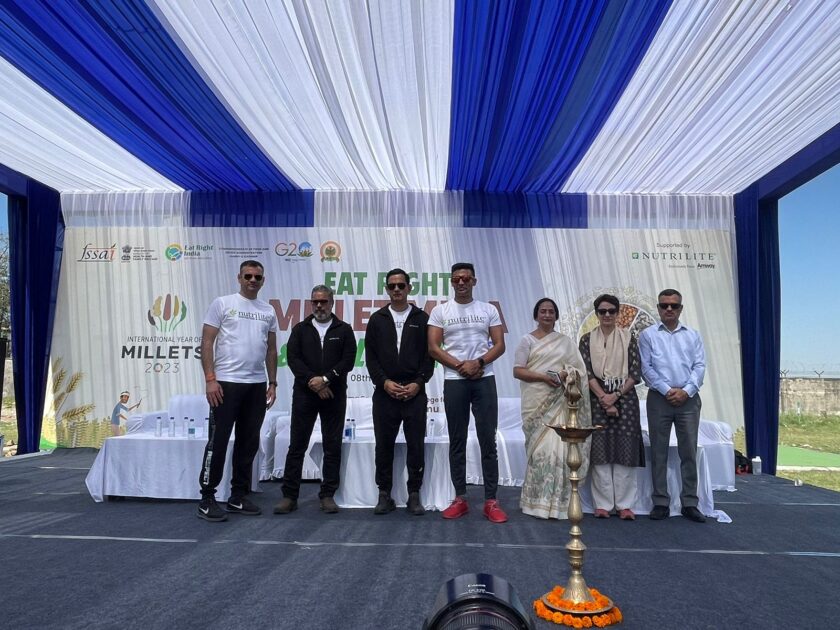 Organizes Millet Walkathon and Mela in its endeavour toward building a healthier nation
Jammu, April 8, 2023: Reinforcing its focus towards building a healthier nation with the right nutrition, Amway India, one of the country's leading FMCG Direct Selling companies, partnered with FSSAI for the Eat Right Millet Mela through its flagship brand, Nutrilite, world's no1 selling vitamins and dietary supplements brand , to celebrate the International Year of Millet, 2023. As one of the leading health and wellness brands, the company partnered with FSSAI in organizing the 'Millet Walkathon' to promote the importance of holistic well-being through an active lifestyle and the right nutrition in the form of a balanced diet and nutrition supplementation.
In Jammu, the 3 km walkathon started and ended at Padma Shree Padma Sachdev Govt. PG College for Women Jammu. This joint outreach by Amway India and FSSAI witnessed overwhelming participation from the fitness-conscious citizens of Jammu, who walked their way to good health while making the right nutrition choice. Also, present at the event were dignitaries including Ms. Inoshi Sharma, IRS, Executive Director FSSAI, Ms.Avny Lavasa, Deputy Commissioner Jammu, Amway India's brand ambassador and international wrestler Sangram Singh along with Gursharan Cheema, Sr. Vice President, North & South, Amway India among others.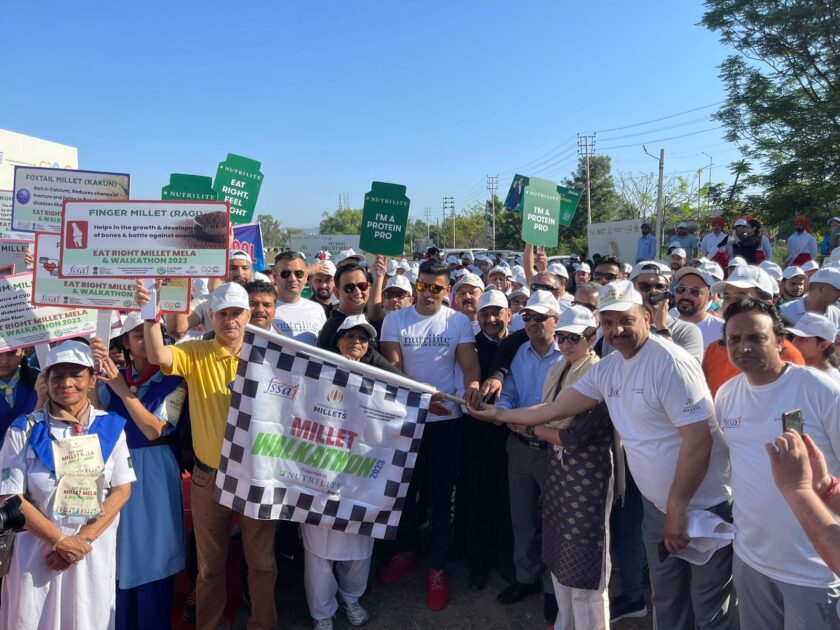 "We are witnessing an agricultural renaissance with the most ancient crop of the world becoming the present and the future crop," said Mr. G. Kamala Vardhana Rao, Chief Executive Officer, FSSAI, setting the context for the Millet Walkathon and Mela Jammu 2023.
Speaking about this association, Mr. Anshu Budhraja, General Manager, Amway India, said, "Despite being one of the fastest-growing economies in the world, our progress as a nation towards being a healthier one has only begun. Given India's significant share in the world's population, we, as a nation, have a critical role in shaping the nutrition narrative in the world. We, at Amway, have always strived to advocate the importance of proper nutrition, through our flagship brand Nutrilite, which brings together the best of nature and the best of science. Considering that the nutritional requirements are often not adequately met through the meals we eat, a well-balanced diet with required nutritional supplements can go a long way in improving our health. Understanding this, we, as a leading health and wellness brand, offer a wide range of quality and innovative nutrition supplements including our bestselling products such as Nutrilite All Plant Protein powder, Nutrilite Daily, Nutrilite Salmon Omega – 3 and Nutrilite Cal Mag D Plus amongst others, driving forward our vision to make India healthier".
He further alluded, "Amway India is committed to promoting healthy living in our country and we will continue to offer need-based recommendations to the health-conscious consumers alongside supporting such initiatives to help people live better, healthier lives. Our partnership with FSSAI for the Eat Right Millet Mela is a great opportunity for us to contribute towards the 'Eat Right India' movement. We hope that our joint efforts will bring about a nutrition revolution and inspire people to make healthier food choices."
With a vision of helping people live better, healthier lives, and aligned with the government of India's key programs like Ayushman Bharat and POSHAN Abhiyaan, Amway India, through Nutrilite, has been associating with FSSAI to support its Eat Right Movement for the last 5 years in its efforts to create awareness about a healthy active lifestyle with the right nutrition.
The walkathon followed by Eat Right Millet Mela is envisioned as a mass movement to celebrate the International Year of Millets 2023 and build awareness of safe food and healthy diets through an interactive and informative model. Nutrilite by Amway has partnered with FSSAI to promote this initiative across 16 cities including Bengaluru, Delhi, Chennai, Kolkata, Lucknow and Mumbai amongst others.