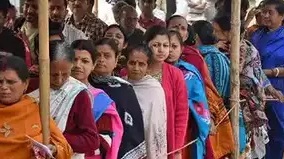 PM urges people to cast their vote in large number in Karnataka as well as in other by-elections
Bengaluru/New Delhi: Voting for the assembly elections began on Wednesday. The Election Commission said that 8.1% of polling took place in the early hours.
The election is going on for 224 seats. There is a three-cornered contest between the ruling BJP, the Congress and Janata Dal (secular) of former prime minister HD Deve Gowda. The polling that began at 7am will continue till 6pm.
The challenge is whether the ruling Bharatiya Janata Party will be able to repeat its government or the Congress will return to power. The Congress sets its eyes on the 2024 Lok Sabha elections through the assembly polls in the state.
Prime Minister Narendra Modi twitted: "There are by-polls happening for a Parliamentary seat in Punjab and for assembly seats in Meghalaya, Odisha and UP. Urging voters in those constituencies to exercise their franchise in large numbers."
On the other hand, Congress president Mallikarjun Kharge said that the voters of Karnataka had decided to elect a progressive, transparent and welfare-oriented government.
Similarly, Congress leader Rahul Gandhi appealed to the people of Karnataka to build developed and a "40-per cent-commission-free state."
Gandhi said, "Karnataka votes … for 5 guarantees, for women's rights, for youth employment, for upliftment of the poor. Come, vote in large numbers. Gandhi's tweet was in Hindi. He used the hastag "Congress winning 150."
Polling for Jallandhar LS by-poll begins
Polling also began for Jallandhar Lok Sabha by-poll. The constituency is witnessing a four-cornered contest. Nevertheless, the main players are the AAP, the Congress and the BJP. There is another player in the fray – Shiromani Akali Dal.