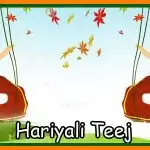 Hariyali Teej will be celebrated on 23 July 2020. The festival falls on the Shravan month.
Teej marks the togetherness or union of Lord Shiva and Goddess Parvati.
Hariyali Teej is observed with fun and enthusiasm in Haryana, Rajasthan, Uttar Pradesh, Bihar, Madhya Pradesh, Chattisgarh, Gujarat and Himachal Pradesh.
Young unmarried girls and married women observe the festival with full dedication and devotion to protect their husbands or future life partners.
As per an astrology website, the festival's tithi begin at 7.22 PM on 22 July and ends at 23 July on 5.03 PM.
In order to celebrate the festival, women play in the swing rides, put mehendis on their hands, wear sarees or traditional outfits and pray to Teej Mata or Goddess Parvati.
Fast is observed by married women who wait to see the moon during the night to break the ritual.
By Sahana Iyer