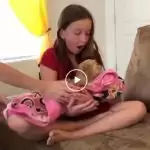 Bored of reading lockdown and coronavirus related news? Wanted to read something that is fun and inspiring too?
Well, we came across a video on Reditt which is just 30 seconds long. But mind you, the video can be much a needed break for you from the ongoing negativity.
Captioned as "My daughter has been asking for a dog for years. Finally surprised her with a 10-week old puppy. Her reaction says it all", the video starts with a young beautiful girl starting on the sofa with her hands out and eyes closed.
The girl's mother comes with a pink blanket and keeps it in the girl's arm. The blanket has a tiny canine and when the girl opens her eyes, her reaction is the most cute thing you will watch on the internet today.
The sweet puppy is just 10-week old who becomes happy too after sitting in the girl's arms.
The post has been liked by many on the social platform with more than 2000 upvotes and lakhs of likes.
By Sahana Iyer