Gifts for all occasions comes in Gold Foiled Frames of Lakshmi Ganesha, Radha Krishna, Ganesha and Bal Gopal
New Delhi, September 20, 2018: Kundan Gold Refinery, a treasured business unit of Kundan Group has launched a attractive range of 24 carat Gold leaf frames in Lakshmi Ganesha, Radha Krishna, Ganesha and Bal Gopal to give a special gift for all occasions.
Kundan's Gold frames are Non- tarnishing products made from pure gold thin foil and fused with silicon to give strength and durability. It also comes with an authentication certificate certifying the Purity of Gold with beautiful box.
The universe is a manifestation of one spiritual reality. Within each person this Divine Essence is at the core of his or her innermost being. We all know that Lakshmi Ganesha are considered as highly thought of deities which usually found in almost every household because of their auspicious values. To be blessed on every occasion,
Kundan refinery has carved the image on leaf of pure gold which is handcrafted by artist keeping in the tact even minute carvings as well. The 24 carat gold plated wall frames are going to be the best thing to have in your home this month. Goddess Lakshmi, the goddess of wealth & prosperity and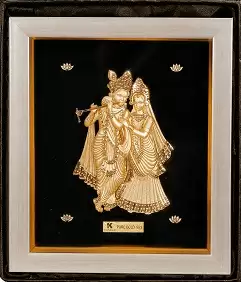 Lord Ganesha, the God of intelligence are worshipped together on Diwali. One must seek the blessings of Lord Ganesha before receiving wealth from Goddess Lakshmi during the festival so as to remove obstacles and reduce misuse of wealth without intelligence. These are carved in various designs & sizes to provide the elegant and eye appealing look.
Mr. Vidit Garg, Director, Kundan Group said, "We all know that Lord Ganesha symbolizes conqueror of all the obstacles and Goddess Lakshmi signifies fortune with prosperity and it is proven that worshiping them ushers in happiness, wealth, wisdom in the family. We always want to keep them with us and this auspicious frame can be gifted on all occasions like griha pravesh, marriages, during festivals, giving blessing and also when starting anything a fresh."
He further added, "Considering the demand of pure gold frames, Kundan decided to launch our own frames, which comes with authenticated & certified pure Gold certificate and 75% buy back guarantee.
Kundan Group: Kundan has grown into one of the nation's leading manufacturing and exporting companies of the 21st Century with a turnover of 4 billion USD. In recognition of the company's multi-business portfolio that encompasses a wide range of businesses – from gold, precious metals, gold refinery, cosmetics to chemicals, agro commodities, polymers, petro product and the import of bullion and pharmaceutical items has added to its versatile dynamism. Kundan has been awarded by the Government of India as a recognized 'Four Star Trading House', a nominated agency, also ISO 9001-2008 certified.
Kundan Gold Refinery is a most treasured business unit of "Kundan". For 20 years, KUNDAN has marked its presence in precious metals and continuously progressing for the tremendous achievements. Kundan care Products Limited established one of the largest Gold and Silver refinery in India known as "Kundan Gold Refinery' well equipped with breakthrough technologies, trend setting labs and highest quality standards. Kundan Gold refinery is acknowledged as major importer of Gold and Silver. It is well known as largest private Gold refinery in India.