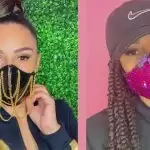 As New York City distributes millions of cloth and non-medical face coverings and parts of Europe make masks mandatory in public, fashion designers are creating their own versions.
And while larger businesses such as clothing company Eileen Fisher have been making face coverings for police and fire departments, a raft of other fashion labels are now making non-medical masks to sell to consumers.
Step forward Bravado, the merchandise arm of Universal Music Group (UMG) that sells band T-shirts, which is now making face masks featuring the likes of Billie Eilish, Ariana Grande and Queen for $20 apiece, donating net proceeds to music charities. The Eilish version features her green Blohsh logo, a symbol that appears on her merchandise line, while a Rolling Stones version features its open mouth marque. UMG started off by distributing face masks to employees and will donate 50,000 masks to community workers.
MaskClub, meanwhile, is selling Hello Kitty and Batman-branded masks, and was set up by licensed merchandise manufacturer Trevco last month. It claims to be "the first ever branded subscription face mask website," with the option to sign up and be sent a mask each month. The site will donate to the First Responders Children's Foundation for each mask bought.