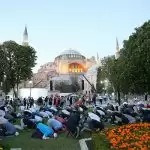 Istanbul: Muslim prayers will echo on Friday from the iconic Hagia Sophia in Istanbul for the first time in 86 years after its reconversion into a mosque earlier this month.
President Recep Tayyip Erdogan on July 10 controversially declared the nearly 1,500-year-old monument open to Muslim worship after a top court ruled the building's conversion to a museum by modern Turkey's founding statesman was illegal.
The UNESCO World Heritage Site was built as a cathedral during the reign of Byzantine emperor Justinian I in 537 but converted into a mosque after the Ottoman conquest of Constantinople in 1453.
It was designated a museum in a key reform of the post-Ottoman authorities under the modern republic's founder Mustafa Kemal Ataturk.
Erdogan, who is scheduled to join hundreds of worshippers on Friday, said last year it had been a "very big mistake" to convert the Hagia Sophia into a museum.